Sometimes the same product is available in different styles or types. For example, you might sell a t-shirt in several different sizes, or a hat in a variety of different colors. Create product variants to show your customers all the options which they can choose from.
To begin, navigate to Artists>Manage My Store in the navigation bar and select Manage My Products. From this page you can add a new product or edit an existing one. If editing a product select the product name and click on variants from the top navigation bar.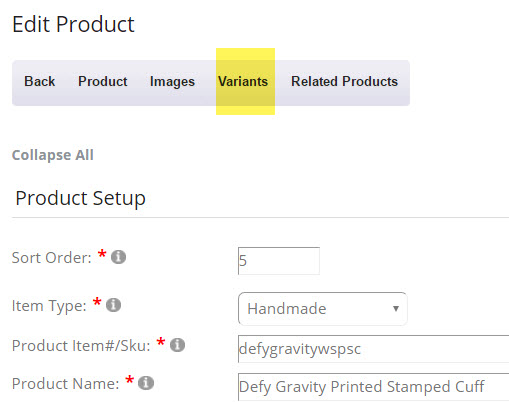 VARIANT GROUP
Before adding individual variances, you must first have a variant group. To add a variant group simply select the button Add Variant Group. Let's say you are adding a cuff bracelet offered in different types of metals. Your group would be titled metals. You can have as many variant groups as you need.
Tip - to add a price description to a product you can use variances! Say you sell your product by the dozen(s). Add a variant group called quantity, then add a product variant of 1 dozen, enter the appropriate price and save. Continue adding quantities and corresponding prices.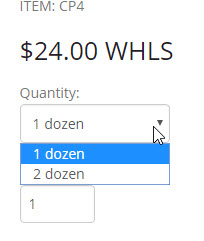 PRODUCT VARIANCES
To add the individual variances select the Product Variants tab. All fields with the red asterisk are required. Give your variant a sort order number, select the appropriate group from the variant groups you added and enter the name of your variant.
Pricing and Weight:
No Price Adjustment - the variant does not change the original price of the product - be sure to leave the price field blank
Absolute Price* - the variant price entered will become the product price for that specific variant (ex. cuff in gold costs $15, in brass it costs $10)
Price Adjustment- the price entered for the variant will be an adjustment (added or subtracted) to the regular product price (ex. base price for cuff is $10, brass cuff is $7 more making the cuff $17; gold cuff is $12 more making the cuff $22)
*if you add more than one type of variant group and the variants have different pricing you may have to use price adjustment to create an accurate pricing structure.
Weight - if your variant causes the weight of the product to change enter the new weight here. This is important to do if you calculate shipping based on weight.
Inventory:
If your variant has its own product ID number - or SKU - enter it here. For example, our sample cuff has a SKU of cuff2017 and our gold cuff has a SKU of cuff2017-gold. Proper SKU management will be helpful when filling orders!
If you are managing inventory be sure to enter the total number of the variant you have available. NOTE - inventory on variances is not reflected during checkout and is for internal use only.
Images:
if you have added multiple images to your product you can select one to represent your variant. Your main product image will be the image for your first variance.
Note: the variant ID number highlighted below is auto-generated by our shopping cart and does not affect the SKU you enter.
HOW TO COPY VARIANCES
Create New Product
Select a current product that has variances you wish to copy
On the product selected in step 2 select the Variants tab
Select the copy button
From the select dropdown choose the new product you created in step 1
Select variants you wish to copy or select all
Then select copy button again
From the top product nav bar choose Back
Open new product from step 1 and adjust as needed
View in store