To manage your orders navigate to Artist>Order Management>Manage My orders. Here you can confirm or reject an order. When you confirm or reject an order an email box will popup allowing you to add a note to the buyer. The note is optional, however an email notifying the buyer will be automatically sent.
You can search your orders based on different parameters and you can sort through your orders. By selecting the invoice number you can view the order in its entirety. Change the order status, enter the shipping details, add a discount or update shipping fees.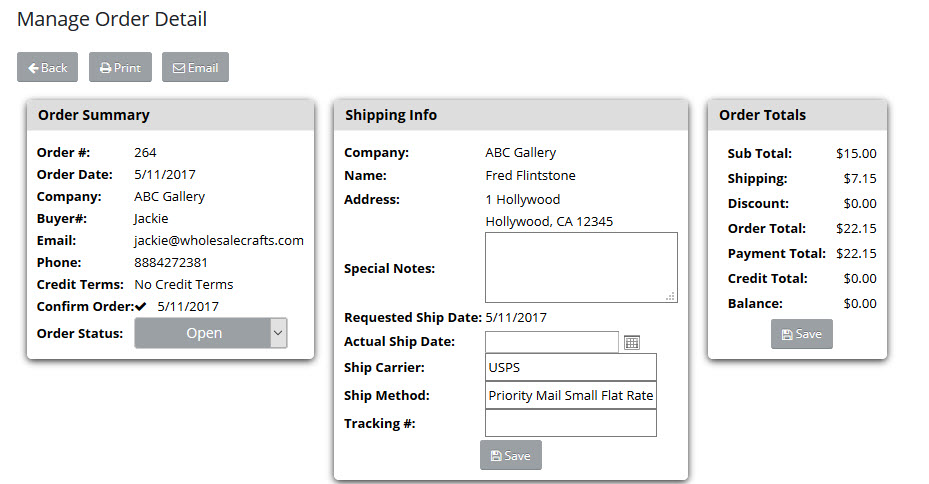 Quickly and easily update quantities or add to the order by selecting the Add to Order button. Here you can view the payment history, edit a payment and delete payments. You can also view the activity on this order and add a private note only you can see.
To delete or edit a payment click on the checkbox to the left of the payment and select either the Edit Payment or Delete Payment button.
Please note - deleting a payment does not submit a refund or credit to your buyer. It only deletes the record of the payment on the IndieMe Marketplace and opens the order back up. To issue a credit refer to your card processing company. To learn more about manually processing payments on behalf of the buyer click here.
Back on your order management screen if you select the buyer name you can learn a bit more about your buyer and view their customer record with you. Select the View Buyer Profile button to view all about the buyer and his shop, assign credit terms to the buyer, and even add an order that was placed outside of the IndieMe Marketplace.