Video's are powerful selling tools. Show your buyers how you create your product, show them how to style or wear your product or give them a tour of your studio. What ever you choose be sure to add at least one to your store.
To add a video upload your video to an online video hosting platform like You Tube. Copy the embed link (right click on the video itself and you will see the embed option) and on the IndieMe Marketplace navigate to Artist>Mange My Store>Store Settings, scroll to the bottom and select Custom Headings.
Alternately you can use html5 markup using the following code and replacing the url with your specific link.
<video width="320" height="240" controls>
<source src="http://www.harmonyhollow.com/spins/SaterSpinnies2.m4v" type="video/mp4">

Select Add, enter the sort order number, the name and in the content box paste the link to your video. Save the vendor attribute by selecting Add Vendor Attribute.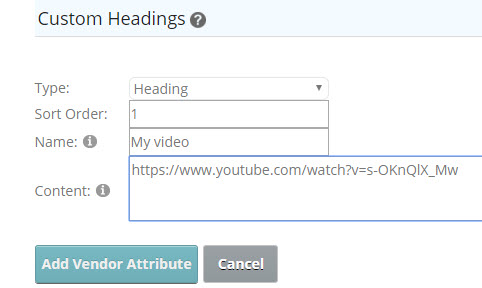 Your video link will now appear on your store. To view navigate to Artist>Manage My Store>Go To My Store and scroll down to see the new custom heading. Add as many video links as you like. If you have a You Tube channel simply enter the link and direct the visitor to your channel directly.