Marketing your product line is essential to gaining new sales and generating repeat sales. IndieMe has a variety of print and online advertising opportunities to meet your needs and your budget. Learn more by visiting here. Keep an eye on upcoming deadlines on your artist home page too.
BUYERS GUIDE
We have several size ads for you to choose from. Any discounts you are entitled to are shown next to the ad size. We offer a first time ad discount for those who have never purchased an ad or for those who have not purchased an ad in the Buyers Guide within the past three years. Looking to maximize your advertising and to save additional money, please consider our 4x ad program. Consistent advertising is key and this program offers both consistency and cost savings! Contact our help desk at service@indieme.com to get started with our 4x ad program.

VERTICAL MARKETING GUIDES
Choose the guide that best suits your needs and market to a targeted audience. Each guide corresponds with a Buyer's Guide offering deeply discounted ad rates to participating artists. We have several vertical marketing guides - one or more will be suited to your targeted demographic. Choose from:
Garden & Outdoor Guide
Jewelry & Wearable Art Guide
Home Decor & Tableware Guide
Jewelry & Weddings Guide
To learn more and sign up today visit www.indieme.com/vertical_marketing_guides.
---
HOW TO ORDER A PRINT OR ONLINE AD
To order an ad click on Artist in the menu bar and select Market Yourself then choose which publication you are interested in.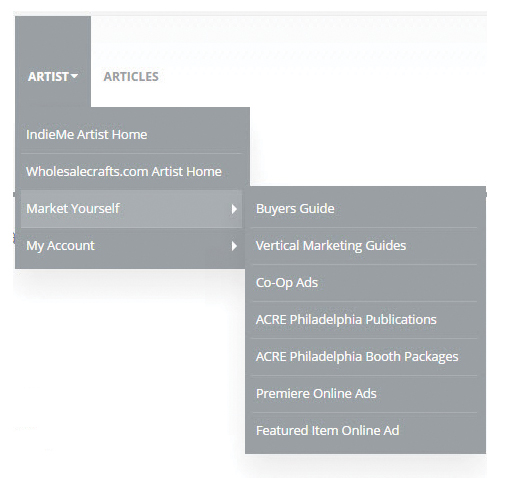 PRINT ADS
When ordering print ads select the size you are interested in and fill out the corresponding form. Remember some of the information you add in this form will appear in your ad so take time and review. We will need your images as soon as possible - if you can upload your ad image at the time of ordering great! If not please choose which way you will get your image to us. Be sure to review the image size requirements.
PAYMENT INFORMATION
When entering your payment method choose from the drop down list of options and select if you prefer one payment or 2 payments (if applicable). Once you fill out the payment form select the submit button. For your security IndieMe will not store your credit card information. 

ONLINE ADS
To order an online ad select either Premiere or Featured Item Online Ad from the menu bar. Featured Item Ads are $15 each and feature one item from your product line. You can choose the date you wish the ad to run - the ad will appear on the buyer home page for one week and the following week will appear in our company newsletter. You can schedule ads every two weeks and you can schedule up to 6 months in advance.

Premiere Ads run for 90 days and are displayed alongside search results. These ads run for 90 days and can feature up to 3 items of your choice. The results are random and your ad will appear on at least every 20 search result pages. You can schedule multiple Premiere Ads to run at any given time.