At times you need to add or edit many products or raise your pricing globally. To make these changes you can go to each product and update it or you can use the Bulk Edit or Bulk Add feature found on your Manage My Products page.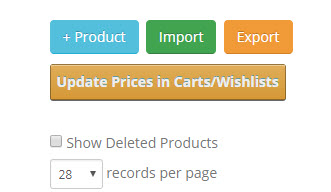 Here you will find two buttons for Export and import. Select the Export button to download all your products. Note - each product must have a unique sku and a unique name. You will run into a problem if your items have the same name or the same sku. Once you download the csv file open it in Excel and update any columns as needed, save as a csv file. Note the columns that required to be filled in have an asterisk in the column name. Then to upload choose Import button and select edit products, choose the csv file and upload. To add new products, open a new csv file, copy the columns from the exported file and add your new products to this file. Select import and then add new products. At this time we do not have a bulk image upload.
Please understand that any changes you make to the exported spreadsheet will affect your store. IndieMe assumes no responsibility if any errors are made. Be sure you make a copy of the original export file and then save that just in case you need to revert to a previous version.
Have an Etsy generated CSV file? Great! We can accommodate that file as well. Select Import, then select the Etsy import option and submit. Your upload will begin immediately and will be completed within a few minutes (time varies based on file size).